Create Razor Sharp Marketable Items
With over 416 sales representatives trying to meet each FORTUNE Global 2000 executive, B2B tech vendors face a huge challenge in breaking into the target market. The problem is further exacerbated by the Internet-enabled Buyer 2.0 who doesn't reach out to sales until much later in their purchasing process than before.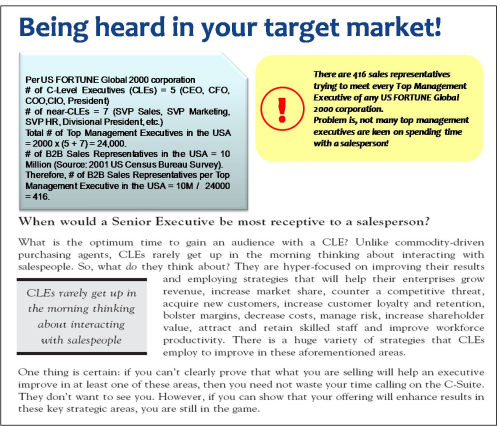 From our experience and according to the guidance from various research analysts, salespersons need to engage with prospects earlier than before. Can they do this with their traditional solutions-selling approach, feature-benefit statements, and the like?
No chance! At this stage, the prospect's needs are nebulous. They won't vibe with messaging specific to a brand or company, no matter how powerful it is. To succeed at the early stage, sales need to articulate what business value their products or services add to the prospect's company in the context of the prospect's specific situation.
Enter Marketable Items.
Marketable items package product features and service capabilities into compelling reasons to buy that resonate strongly with the target market's pain areas and hot topics. If they don't create gain, they must solve pain.

Using the deliverables of this phase, many technology products and services customers have engaged earlier with prospects and succeeded in dislodging incumbent vendors.
The activities involved in the OFFERING phase are
Discover internal strengths

Identify differentiators

Scan industry hot topics

Package strengths and differentiators

Create go to market themes / marketable offerings
As the following examples illustrate, marketable items are not product feature lists or canned demos. Neither are they item descriptions on merchant websites nor technology service lines like application development, maintenance, upgrade and support. With a razor-sharp focus, a marketable item usually leaves out more product / service attributes than it includes.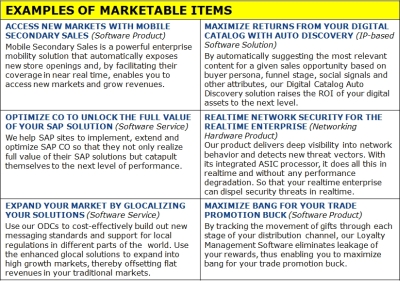 After we create a longlist of marketable items, we score them against the dimensions of sales and delivery readiness in an Offering Scoring Matrix. This yields a shortlist of marketable items, the number of which depends upon the vendor's marketing budget and revenue goals. Depending upon the aggressiveness of the vendor's sales and delivery organizations, the shortlist might contain only green zone marketable items or might include a few items from the amber zone as well. Red zone marketable items are usually avoided.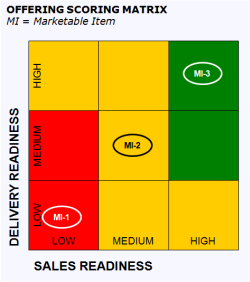 Shortlisted marketable items are taken up for the CONTENT phase.