If you think bots will never replace human agents, you're amongst the lucky few who has been served by intelligent human agents.
Let's stop pretending that live agents have IQ of 140+ when we claim that chatbots are too dumb to replace them.

— GTM360 (@GTM360) March 29, 2017
I admit that I've also been among the lucky few at times. But more often than not, I come across fairly dumb human agents. And, lately, I've started experiencing fairly intelligent chatbots.
Let me give you three recent examples.
#1. MNO (HUMAN AGENT)
I sent an email to this leading mobile network operator in July last year inquiring about its 3G plans. I get its quote in November! Although he – yes, it was a he – took four months to respond, the human agent hadn't found the time to check my customer record in his CRM. Had he done so, he'd have found out that I already had a 3G connection by then! (Which I got by connecting with the MNO on social media after waiting in vain for a reply to my email)
#2. PUBLISHER (HUMAN AGENT)
I recently renewed the subscription of a reputed global business magazine. From the date of the last issue mentioned on the magazine's jacket, I got a feeling that my subscription period was calculated wrongly. I decided to take this up with the Indian distributor of this global media giant. I sent the following email to this company:
Dear Fortune Subscription Department:
My newly renewed subscription is for 30 issues. I opted for Special Gift of "10 Bonus Issues".
Therefore, my subscription should cover a total of 40 issues (being 30 + 10).
According to the cover sheet received along with the first issue dated 15 Dec 2016, my new subscription apparently expires in JUNE 2018.
This covers only 25 issues, calculated as follows:
December 2016: 1 issue
2017: 16 issues (being 12 + 4, given that frequency is monthly plus 4 extra issues per year).
Jan-Jun 2018: 8 issues (50% of full year figure of 16 issues)
TOTAL: 25 ISSUES
So there is a discrepancy of 15 issues (being 40 – 25) between what my subscription should include and what your cover sheet states it includes.
Please arrange to resolve this discrepancy and restate my correct last issue date – it can't be June 2018.
Thanks in advance.
Thanks and Regards / Ketharaman S
I got the following reply:
Dear Mr Ketharaman,
Greetings from Business Media Pvt Ltd !
This is further to your appended mail regarding FORTUNE ASIA magazine.
Please be informed that FORTUNE is a monthly magazine with 4 Quarterly double issues which counts as 20 issues in a year.
Please feel free to contact incase of any further information is required.
Looking forward to your continued readership.
Best Regards,
Dhanpreet   |   Fortune Asia
Chief Manager – Consumer Marketing Services
As you can see, the reply – from the head honcho of the Indian distributor's consumer marketing – was extremely casual and didn't come anywhere close to answering my question.
I gave up on this company and finally got my issue resolved by escalating it to the parent company's Asia Pacific headquarters in Hong Kong.
#3. BANK (CHATBOT)
I recently tested out Eva, the chatbot deployed by a Top 3 private sector bank in India.
I first raised a straightforward query: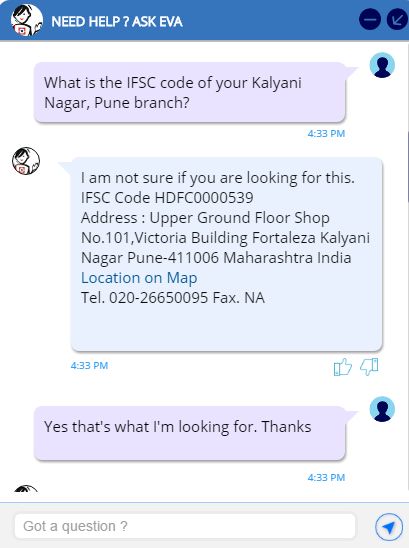 Eva passed this test with flying colors.
I then logged a complaint related to the discrepancy in the length of the narration field between the bank's IMPS and NEFT payment methods: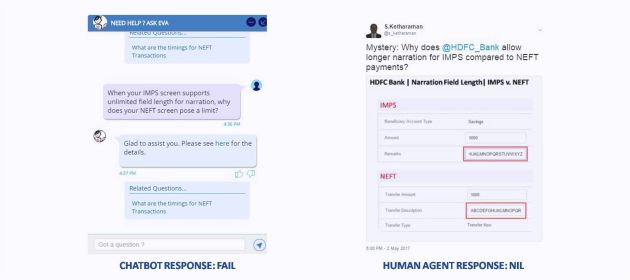 Eva failed this test.
But so did the human agent handling the bank's Twitter account. Despite explaining the problem by attaching a screenshot to my tweet, I didn't even get the bank's customary auto-response.
---
When I wrote about chatbots here and here seven years ago, I found many of them to be quite human-like. I thought virtual agents – as chatbots were called at the time – showed tremendous potential and predicted that they could replace lower-end human call center staff within the forseeable future.
Well, that future is already here. Even a simple chatbot like Eva can match or outdo the two human agents described above.
From this, can we conclude that chatbots can replace all human agents?
NO.
Because there have been other situations where I've received a much better level of response from human agents that can't be matched by chatbots available today.
This got me wondering when a chatbot can replace humans and when it can't.
To answer this question, I'd a look at the so-called QRC model. According to this popular model used in customer service, customer missives to brands fall under Query, Request or Complaint e.g.:
Query: What 3G plans do you offer?
Request: Please send me a paper bill ASAP.
Complaint: My printer has stopped working.
When we think of Customer Service, we tend to think only of complaints. However, that's not an accurate representation of what happens in contact centers. According to several CX leaders I've spoken to in the course of executing some of my company's engagements, only 60% of support tickets are complaints, with the balance 40% split evenly between queries and requests.
From personal experience and anecdotal evidence, chatbots can outperform human agents for answering virtually all customer queries.
With the recent advances made in Artificial Intelligence / Machine Learning, chatbots may soon be able to match mid-level human agents for fulfilling most customer requests.
However, chatbots will lag high-end human agents for resolving complaints for the forseeable future. That said, sophisticated chatbots can already complement human agents in this area.
I saw a great example of this when I couldn't access one of my websites recently. Like I usually do, I used Twitter as my first port of call to reach out to my hosting service provider. Involving SSL, domain redirects and a few other complicated issues, the problem soon went over the chatbot's paygrade. At that stage, the chatbot handed me over to the company's live chat channel handled by a human agent. Normally, whenever I switch channels – say from email to telephone or vice versa – I'd have to start all over again. That didn't happen this time. The chatbot seamlessly passed on the transcript of the Twitter DM conversation to the human agent so I could continue from where I left the Twitter DM conversation.
Agreed that such examples of seamless "omnichannel customer service" are few and far between today but I expect the technology to go mainstream soon.
So, to return to the title of this post. As things stand, with my vast experience with human agents and limited experience with chatbots, I'd answer the question "Can Chatbots Replace Humans?" thus:
"Yes" for Query.
"Maybe" for Request.
"No" for Complaint.
Looks like I'm not the only one who is so optimistic about chatbots taking over many customer service activities from humans.
According to a MarketingCharts.com / PegaSystems survey of 6,000 adults in North America, EMEA and APAC, the largest segment of the surveyed audience (38%) felt that chatbots can provide better customer service than human agents in the future.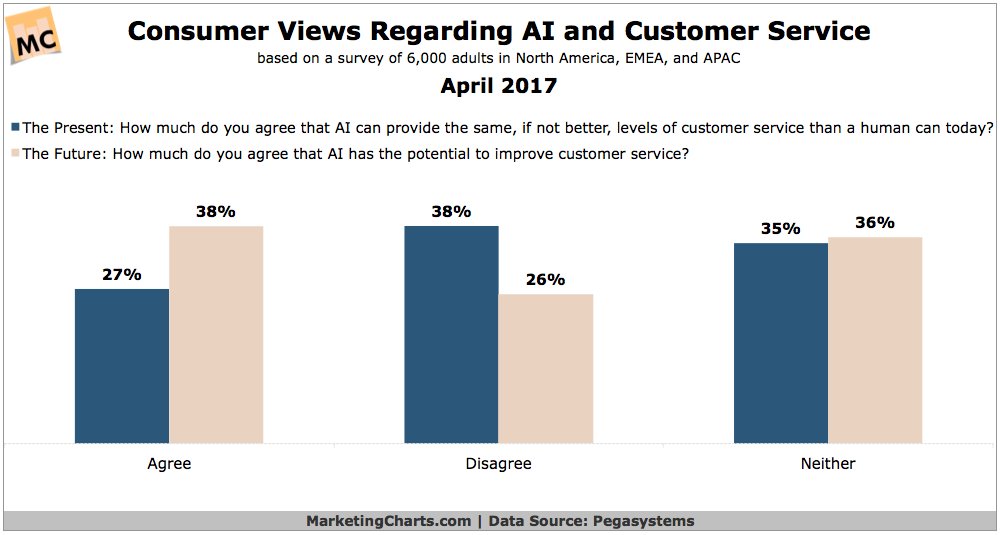 This is great news for service providers who suffer from severe attrition of human agents caused by the tedious nature of most customer service work. By taking over their mundane work, chatbots can free human agents to focus on cross-selling, upselling and other value-added areas of customer engagement.
UPDATE DATED 17 JULY 2017:
I came across the following ad for Bajaj Allianz's latest BOING chatbot today: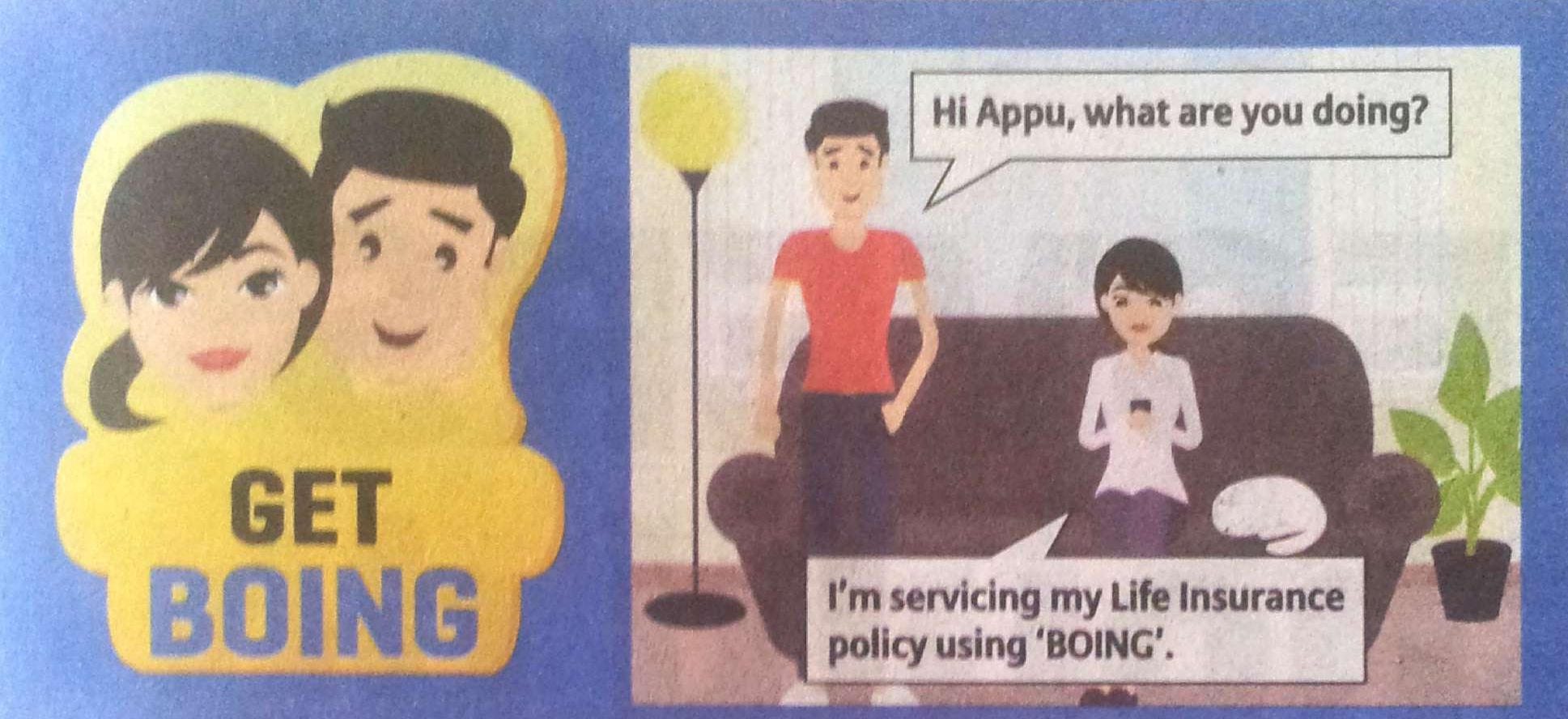 Like Appu, I also wanted to service my insurance policy using BOING.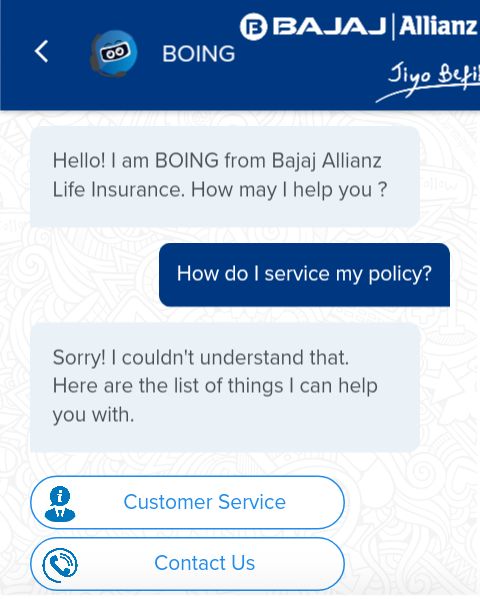 But I wasn't as lucky as Appu. When I asked BOING "How do I service my policy?", BOING couldn't even understand my question!
BOING is surely not a great testimonial for the capabilities of chatbots but it's still early days.
---
Also published on Medium.