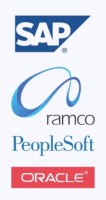 I was recently talking to an SAP consultant who has been in this field for close to a decade and is currently employed with one of the world's largest SAP partners.
I was tickled by a few things he told me about the current state-of-affairs in the SAP world:
As an FI lead, he must be on call 24/7 during his customer's month closings
The customer starts their payroll run only after the HR consultant reaches onsite
Focus is on implementing the core modules SD, MM, FI and PP. CO still gets postponed to the elusive "next phase"
Process-oriented, cross-module groupings like Order-to-Cash, Procure-to-Pay and Hire-to-Retire are only used for marketing and presales. Actual implementation happens module-wise
Consultant affiliation – and allocation – are still based on modules. Requests for cross-module expertise are rare. If and when they do arise, they're fobbed off with the standard response, "that's not how SAP Practice works"
Core modules still use Windows – not browser – GUIs and support remote user access via Citrix Metaframe.
For all the changes that ERP drives in a customer organization, it looks like the world of ERP itself hasn't changed much since I entered it two decades ago!
If you're wondering why this is the case, Dilbert may have the answer:

On a more serious note, let me simply repeat what the aforementioned consultant told me: "SAP is a business enabler. It can't change much when the underlying business dynamics continue to be complicated".
Personally, I'm pleased with #3 and #6 because:
And a little disappointed with # 4 because, when I was exposed to ARIS and a couple of other business process modeling tools in circa 2000, I was excited about the innovative implementation methodology supported by them. It's a shame that, 15 years later, they haven't gone mainstream.