THE SHORT ANSWER
Just one button to click. No need to leave the page they're on. No getting frustrated with confusing CAPTCHA codes. Your website visitors will love EMAIL360's superior UX compared to the long registration forms they've seen on most contact us pages. And you'll love the increased lead flow.

1-click action keeps away spam - without CAPTCHA.

'Rocket Routing' delivers leads for different products and services automatically to different people in your organization - in realtime. Now, you can say goodbye to leakages and delays caused by manual distribution of leads. You can also be assured that each lead is being handled by your most capable employee. Read more about Rocket Routing >>>

SaaS model means zero capex, infrastructure or maintenance costs for you.

Zero-risk of entry since you get the first five leads absolutely free.
THE LONG ANSWER
Most website owners spend a lot of time and money on SEO, SEM and social media to grow traffic. Having attracted the traffic, some of them fail to use any tools to learn more about their visitors whereas others put up lengthy registration forms in order to gather a lot of visitor information. Both approaches result in sub-optimal returns from their traffic generation investments: without any information, the former miss the opportunity to engage with their visitors on an ongoing basis; by trying to collect too much information too soon, the latter drive away a majority of visitors in what is estimated to be over 60% abandonment rates common to B2C and B2B websites*.
EMAIL360 strikes the right balance between collecting too little and too much information.
EMAIL360 delivers the visitor's company name and their purchase intent with absolutely no action by the visitor** - no online form to complete, no email to send, no nothing. Armed with this information, inside sales persons of B2B product and service providers can cold call to the visitor's company with the confidence that there's someone out there who will be receptive to their pitch. Click here to see a sample of visitor information delivered by EMAIL360.
EMAIL360 also reveals the name, email address, purchase intent and other useful information with a 1-click visitor action - something that's invaluable for B2B and B2C businesses alike that are interested in generating qualified leads and identifying sources of website abandonment. By providing fluid in-page transitions, minimizing the number of keystrokes, and avoiding confusing CAPTCHA codes, EMAIL360 encourages more website visitors to respond to calls to actions (CTAs) such as providing feedback, signing up for newsletters, downloading white papers and registering for webinars. At the same time, EMAIL360 delivers actionable intelligence to website owners by automatically adding the visitor's IP address, page from where clicked, time spent on that page, and other useful context information. Click here to see a sample lead delivered by EMAIL360.
With its new 'Rocket Routing' feature, EMAIL360 routes leads in realtime to the most appropriate people in your organization. As a result, EMAIL360 helps you eliminate leakages and delays that are inevitable when leads are distributed manually. EMAIL360 also helps you ensure that each lead is handled by the most qualified person in your company, thus boosting your lead-to-deal conversion rates. Rocket Routing is especially useful for banks, insurance companies, universities and other industries that generate a lot of leads for different specialized products and services from different pages of their websites and currently distribute them manually for response by different specialist groups.
Sign-up for EMAIL360 today and get started with 5 free leads.
*: According to a recent study reported in the New York Times, reCAPTCHAs are so confusing that about 25% of users' attempts to solve them simply fail. For businesses that use reCAPTCHA, this means that a quite a few of potential customers are likely to abandon the registration or shopping process.
**: This is facilitated by our proprietary algorithms and partnerships with premium cloud-based repositories that deliver insights beyond those possible with Reverse IP search and website analytics tools like Google Analytics.
APPLICATIONS OF EMAIL360
Email Marketing Campaign Microsite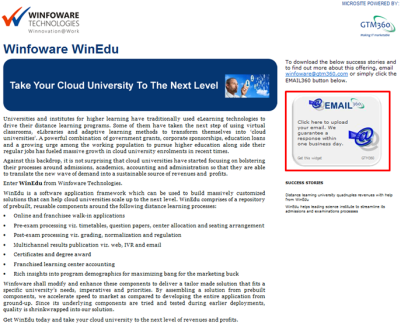 PPC / Display Ad Landing Page

Newsletter Signup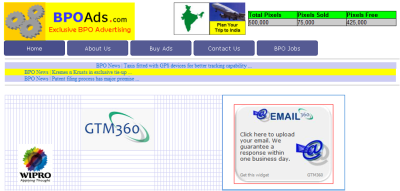 Whitepaper Download Registration