In When Does Negative Copy Drive Positive Outcomes?, we saw how the Loss Aversion principle in consumer behavior makes negative copy effective. At the end of the post, I'd cautioned vendors against using negative copy indiscriminately and implored them to handle campaigns based on negative copy with a lot of care.
In this post, I'll share my thoughts on when and how to use negative copy in customer outreach campaigns.
First the "when" of using negative copy.
It's a no brainer that negative copy should be used selectively. Based on my experience, I recommend it when your prospective customer's vitals would nosedive without your intervention. "Vitals" include operations, revenue, CSAT, brand image and any other KPIs of your customer. "Your intervention" means your product, service or consulting.
While the nuances of the "when" can vary from product to product and market to market, the above guidance can be used to quickly dipstick whether a certain context lends itself to the use of negative copy or not.
Let me "backtest" this guidance on the two examples described in my previous post.
The retailer would lose money if its stock got pilfered from its warehouse
My company's operations would come to a standstill if my phone stopped working.
In both situations, the respective company's vitals would nosedive if it did nothing. Therefore, both vendors were justified in using negative copy to communicate their call to action (CTA).
Next, the "how" of using negative copy.
There are right ways and wrong ways of executing any marketing campaign. When it comes to outreach campaigns based on negative copy, the stakes are higher on account of the sensitivity of the message. Therefore, such campaigns need to be run with greater sensitivity towards the best practices.
I'll take the example of my bank's recent outreach campaign to "organically" arrive at the right ways of running a campaign based on negative copy.
Every time I logged on to this bank's Internet Banking portal, I was "greeted" by the following scary-looking banner.

The same banner was also attached to email transaction alert sent by the bank for my company's bank account.
For the uninitiated, the campaign seeks to drive the so-called "Aadhaar Seeding" activity whereby all bank accounts in India must be linked to their holders' Aadhaar Number (which is a biometric ID issued by UIDAI). The government has mandated this step to curb money laundering. There's a lot of hue and cry on the mainstream and social media that Aadhaar Seeding infringes upon the Right to Privacy. But, as of now, Aadhaar Seeding is not negotiable.
Since my company's operations would come to a standstill if its bank account was frozen – in other words, its vitals would take a nosedive – the bank was justified in using negative copy in its outreach campaign.
It may sound highly negative but I'm sure @HDFC_Bank 's dire warning about blocking of bank a/c is very effective. pic.twitter.com/j3fVgr1QHu

— GTM360 (@GTM360) October 9, 2017
However, the bank bungled the execution of the campaign.
The bank showed me this banner whenever I logged in to my personal savings account. When I clicked on the Link Now button in the banner, the landing page displayed my Aadhaar Number correctly. This was a confirmation of the fact that I'd already linked my Aadhaar Number to this account. No surprises there because I'd completed this activity way back in 2013, pursuant to an ordeal that I'd described in what became the second most viewed post on Finextra that year. So, this message was not relevant for my savings account and the bank did wrong by displaying it to me.
The bank also showed me this banner whenever I logged in to my company's current account. Since Aadhaar is not applicable for companies, this message essentially made no sense. Besides, when I clicked the Link Now button, the resulting page informed me that my company's Customer ID wasn't linked to any savings account. Duh, Captain Obvious, didn't I already know that?
This got very frustrating.
What can a bank in a similar situation do differently? Sugarcoat the basic message? No. But it can
Refrain from showing this banner when I log into my savings account
Explain the relevance of Aadhaar for a business / current account
Provide a way (that works!) to complete Aadhaar seeding for the given account.
Abstracted one level above, this would mean that a vendor running a campaign based on negative copy should
Target the campaign accurately instead of blasting it to all and sundry
Use copy that expresses the problem clearly
Provide a workable solution to solve the problem.
When applied to the WMS software developer featured in my previous post, the above best practices would translate to the following guidance for the vendor's "cut losses" campaign:
The campaign should target only retailers, FMCG and other industries that have warehouses. It should skip BFSI, Telecom and other services verticals for whom warehouse is not a thing
The copy should clearly state that it's referring to losses caused by pilferage of goods from warehouses
Explain how WMS would help curb such pilferage.
Coming back to my bank, I was anxious to complete my pending Aadhaar Seeding activity. I reached out to its senior management to share the above best practices.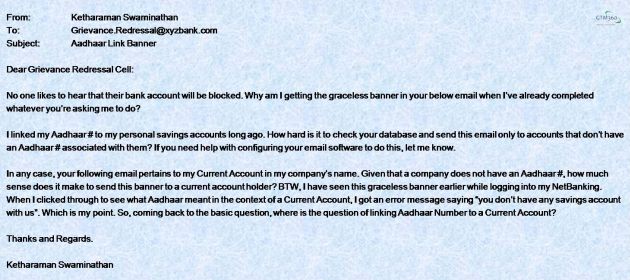 After a bit of back and forth, the bank implemented my recommendations. Accordingly:
I no longer see the scary-looking banner when I log on to my savings account. Check best practice #1
The bank now makes it clear upfront that, in the case of current accounts, Aadhaar seeding refers to the Aadhaar Number of the authorized signatory of the company's account. Check best practice #2
Upon clicking the Link Now button appearing on the welcome screen, customers are directed to a landing page where they can enter the concerned person's Aadhaar Number (including authorized signatory of a company in the case of a current account). Check best practice #3.
Once customers enter their particulars and click the SUBMIT button, they see the following confirmation:

Called "positive reinforcement" in Consumer Behavior, this is a very important step especially when it comes to outreach campaigns that ask customers to complete CTAs mandated by regulation e.g. Aadhaar Seeding, KYC Verification, and so on. Such a confirmation is par for the course for pure-play online companies but, for a bank, I can imagine that thinking of it was the result of going the extra mile.
As a result of these changes, the CX of Aadhaar Seeding journey has improved. While I don't have the figures, I'm sure the new customer journey has helped the bank achieve a manifold increase in conversion of online customers to "Aadhaar Seeders".
---
In summary, negative copy can be very effective if used in the right context and handled with kid gloves.
---
Also published on Medium.