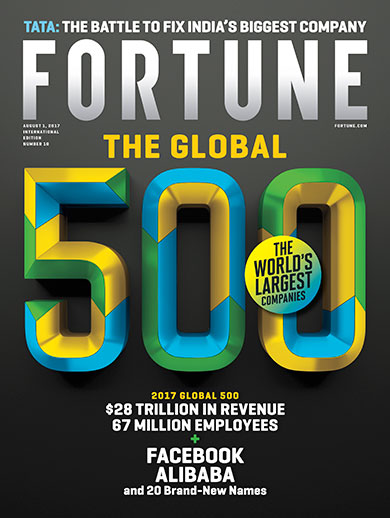 The company ranked #500 in this year's FORTUNE GLOBAL 500 generated revenues of US$ 21.609 billion compared to US$ 20.923 billion posted by its counterpart last year. In other words, the Global 500 Qualifying Revenue increased this year. This is a constant trend except for last year, when the Global 500 entry bar actually fell from the previous year's level.
Before we deep-dive into how this impacts the Indian IT industry, here's a quick overview of the list published by Fortune magazine on 1 August 2017:
WAL-MART STORES (USA) continues its reign at the top spot. AUTONATION (USA) closes out the list at the last position. Their financials are shown below:

For all the talk of disruption by fintechs for the past several years, financials continues to be the most profitable sector in the world, with seven out of 10 most profitable companies in the world belonging to financial services. If this is what wannabe disruption can do, many other sectors must be dying to get disrupted!
The rise of China is unbelievable. A decade ago, the country had 29 companies on Global 500. Now it has 109. The #2, 3 and 4 companies in this year's list are all Chinese. Fortune predicts that China may soon overtake USA, which has the most number of companies on the list (132).
In the 20+ years that I've been tracking this list, India's GDP has nearly quadrupled but the number of Indian entries in Global 500 has stagnated at around 5-8 companies. This year's list has just seven Indian companies. I don't know whether it implies that the country's GDP has grown by virtue of the big companies getting bigger or small companies becoming midsized but not big enough to enter Global 500 or something else. If you have any thoughts, please share them in the comments below.
After debuting at #285 in 2012, STATE BANK OF INDIA (India) has inched up to #217 in the latest Global 500. SBI is now larger than many more-well known global financial powerhouses like ANZ, BARCLAYS, NAB, UBS, et al.
Just one year after entering the list at #423, RAJESH EXPORTS (India) has zoomed up to #295, with 43.1% revenue growth.
Now, coming to the Indian IT industry.
When the Global 500 entry barrier went down last year, I predicted that one or two Indian IT companies would enter the Global 500 as early as 2018. Alas, that's not to be. Not because their growth has slowed down but because the Qualifying Revenue has gone up. I've reworked my model to reflect the latest figures. This is how it looks: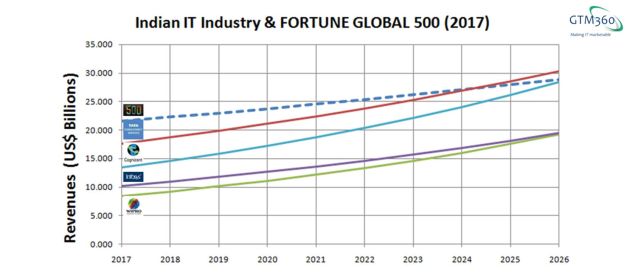 (Click here to download my Excel model).
Based on the revised figures:
TCS will become a FORTUNE GLOBAL 500 corporation in 2025
None of the other four featured companies are likely to enter the hallowed list within the 10 year horizon of my model
The next rung of Indian IT companies stand virtually no chance of entering Global 500, so I haven't introduced them into my model.
As before, my model is based on the assumption that future CAGRs will mirror the latest year-on-year growth rate. This assumption has held up well so far but I expect it to be challenged in the near future because of two reasons. As you'll see shortly, that's not a bad thing.
The first challenge to the assumption comes from the behavior of the Global 500 Qualifying Revenue. As you can see from the following chart, it has been spinning like a yo-yo during the last five years.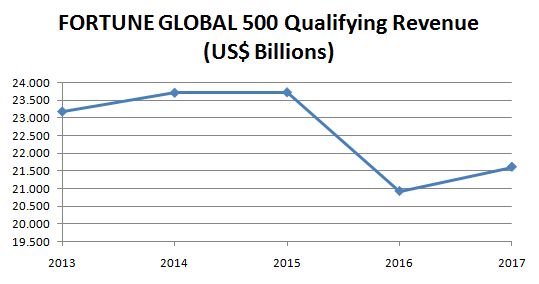 Therefore, it's too simplistic to use the latest y-o-y growth rate to predict future Qualifying Revenues. If Qualifying Revenue continues to behave in such a volatile manner, I'll start using 5-year moving averages in my predictions from next year.
The bigger challenge to the CAGR assumption will come from the high level of inorganic growth expected in the Indian IT industry. Beset with digital, AI, automation and other growth impediments, industry leaders are under increasing pressure from their shareholders to use their huge cash hoard to buy up new-age companies to get a jumpstart on emerging growth opportunities.
During the recent fracas at Infosys, there were strong rumors that Infosys attempted to sell itself to TCS, which is India's largest IT company. Had this deal happened, the merged entity would have entered the Global 500 at #400, with a combined revenue of over US$ 27 billion.
While nothing seems to have come out of this specific overture, the general M&A buzz is too loud to be ignored any longer. When – not if – the inevitable happens, revenues of some Indian IT companies will go through the roof. CAGR of acquiring companies will be way above the figures assumed in my model.
Here's my bold prediction: In a year or two, at least one of the logos in my present model will be gone, and at least one of the remaining logos will appear on that year's FORTUNE GLOBAL 500 list. And that's surely a good thing!