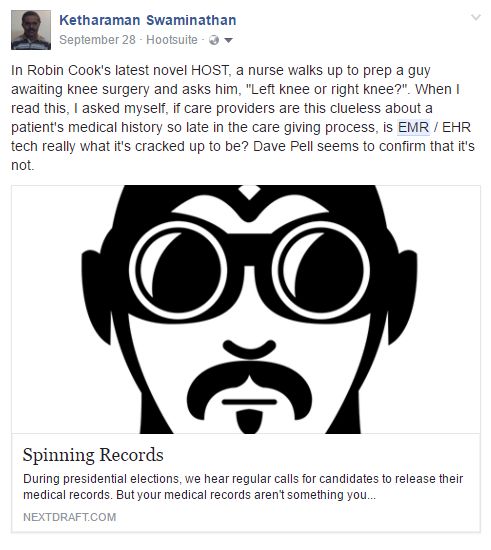 In Robin Cook's latest novel HOST, patients go into a comatose state during simple surgeries. Click here to read my review of this medical thriller. After reading the novel, I had a vague sense of déjà vu feeling. I thought it had a striking resemblance to the author's 1977 bestseller COMA. So many years later, I can barely remember if I've read a certain book, let alone remember its plot. Therefore, I dug deeper. I struck paydirt in this review of HOST, which made the link between the two books explicit: "Robin Cook takes readers back to where the genre began  and the questions posed in Coma".
After looking up COMA on Wikipedia, I was totally convinced that HOST was a carbon copy of COMA.
Published in 2015, HOST has the same plot as COMA although it has all the trappings of the zeitgeist in terms of lingo, gadgets and technology. Both plots use virtually the same modus-operandi, even if the nitty gritty of the antagonists' intentions are slightly different.
As a marketer, I know that repurposing old content is okay in Content Marketing. But what about Publishing? When an author "repurposes" his old book into a new book, is that plagiarization?
Not familiar with the nuances of the publishing industry, I consulted my sister, Roopa Swaminathan, who is the author of a book that won the Swarna Kamal National Award for Best Book in Film award. Here's what I learned:
The copyright of a book is co-owned by the author and the publisher. It's entirely up to the two of them to agree to publish another book identical to the first one.
Even if the second book is written by a different author, as long as its author and publisher enter into an agreement with the first book's author and publisher to publish a carbon copy of the first book – with or without attribution – that's also fair game.
In any case, the author and publisher of the second book don't owe any disclosure to readers.
While self-plagiarization is not illegal, it's not common.
Therefore, Cook is well within his rights to do what he did with HOST.
That said, as a long time Robin Cook fan who has been reading his medical thrillers since his teens, I feel a bit let down that he didn't declare his act of self-plagiarization upfront. When I got over my feeling of betrayal, I could think of only one explanation for Cook's behavior. I know I'm being a big generous but he probably never expected somebody who read COMA in the seventies to read HOST almost 40 years later AND spot the similarity between the two books!

On another note, I've always wondered why no doctor, hospital or insurance company in the USA has been caught commiting the kind of dastardly acts Cook wrote about in COMA nearly 40 years ago (and in nearly every book thereafter) and why American regulators haven't chastisted the healthcare industry despite Cook's claims of rampant malpractices in its ranks going back to the 1970s.
After all, they swooped down on Wall Street after Michael Lewis wrote merely one book – Flash Boys – insinuating that the American algo trading market is rigged for the benefit of insiders.
I guess Cook's books didn't cause too many ripples because all the bad things he wrote in them are merely figments of his imagination. Perhaps he has just been indulging in scaremongering to hit the bestseller lists. There's nothing wrong with that per se – the copyright pages in his novels do state that the books are works of fiction – but we should stop taking his conspiracy theories and doomsday predictions about American healthcare seriously.