At the end of my blog post entitled Indian IT – Crisis Or No Crisis?, I reflected on the zeitgeist about the looming crisis faced by the Indian IT industry due to growing automation, digital challenges, H1B restrictions and Trumpism-driven Middle America outsourcing.
Even if these challenges are real, there's no need to panic. The industry has been through several crises in its 30 year history and emerged from each of them stronger than before. I predict that the same will happen even this time.
But not if it continues to bury its head in the sand. The Indian IT industry can escape the dark clouds on the horizon only by taking a few concrete measures on a war footing. I suggest the following imperatives for the industry in which I've spent over 20 years of my professional life:
Go up the services value chain
Target the CMO organization
Set up component factories
Rethink fixed price deals
Redefine digital transformation
#1. GO UP THE SERVICES VALUE CHAIN
No, I don't mean develop products. For reasons highlighted in my blog post entitled "Going Up The Value Chain" Is Wrong Path For Indian IT Services Industry, the industry's DNA is in services. And services has a lot of headroom for growth, as highlighted recently by Mr. N Chandrasekharan, ex-CEO of India's largest IT company Tata Consultancy Services and currently Chairman of TCS' holding group Tata Sons. So there's no need to jump off the services bandwagon.
What I mean is move up from project management to program management level within a services engagement.
For the uninitiated, a program is an aggregation of individual projects around business analysis, architecture, design, development, testing, infrastructure, deployment and communications.
Historically, bulk of Indian IT companies' revenues have come from development projects involving requirement gathering, design, coding and unit testing. Program management activities are left to the customer. Quite often, the customer outsources these activities to other IT services companies.
If Indian IT companies can start playing a larger role in the end-to-end program, they can stand to achieve a manifold increase in revenues.
Let me explain how by using the following case study.
A Top 5 UK bank was mandated to introduce a new payment system ("FastPay") by the regulator. The bank's Board directed its C-Suite to launch FastPay by a certain deadline. Within the C-Suite, the initiative was owned by the MD of Global Payments ("Executive Sponsor"), who had to fulfill it by collaborating with IT, IT, Operations, Product, Marketing, Legal and the Scheme Operator. Busy with the BAU pressures of running a multibillion dollar business, the MD needed someone to handle the day-to-day minutiae of FastPay's introduction. This "someone" was the "Program Manager", who was a partner at a Big 5 consulting firm.
The overall program structure is shown below.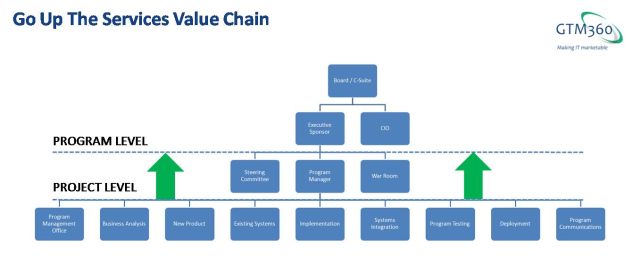 The project level comprises individual projects around business analysis, licensing of new product, implementation of new product, modifications to existing systems, testing, and systems integration.
All these workstreams fold under the Program Manager. In addition to owning these projects, the Program Manager is responsible for the following:
Relationships with internal and external stakeholders such as business, legal, compliance, marketing, regulators, and industry associations
Steering Committee. Chaired by the Executive Sponsor, the Steering Committee comprises of all key stakeholders and convenes on a periodic basis (ideally once a week) to review the progress of the program and make midcourse corrections as required
War Room. This is a temporary setup of all key stakeholders that meets during go-live and at other critical program milestones to monitor progress and take emergency decisions to ensure success of the milestone
Most Indian IT services companies – including my employer at the time – typically function in the capacity of (a) implementation partner and (b) systems integrator. As implementation partner, they "install and commission" the new product at the given company by providing consulting, training, customization, extension and other services. As systems integrator, they "land" the new product into the given company's systems landscape by developing interfaces between the new product and the company's existing systems. As you can see, both roles are largely technical. Typically, implementation partners and systems integrators are not part of the Steering Committee or War Room. As a result, the Indian IT industry has rarely enjoyed direct access to executive sponsors and other key stakeholders nor had much input towards steering the overall direction of the program.
This can change if the industry moves up the services value chain to program management.
While the change won't be easy, it will be very rewarding.
To continue with the above case study, while the individual project vendors earned $5-8M each, the program management vendor billed around $50M. This included some ingenious sources of revenues viz. around $7M for infra project. This was for a plethora of environments such as development, system integration testing, user acceptance testing, sandbox, staging and production. These are things that Indian IT companies tend to give away for free.
As you can see, moving up the value chain from project management to program management can result in 5X increase in revenues.
#2. TARGET THE CMO ORGANIZATION
While new initiatives can happen anywhere in an enterprise, most companies are looking at customer experience and revenue growth as the low hanging fruits for gaining rapid return on their new tech investments. As a result, technology projects are increasingly driven by the CMO organization nowadays. According to Forrester, "CMOs are the most likely C-level executives to have taken full control of their tech spending."
The Indian IT industry has developed a keen sense of efficiency, having traditionally sold technology to the CIO organization, which is a cost-center in most companies. Besides, dealing with the CIO organization has shielded the industry from end-users of technology, whether it's consumers or "business". As a result, the industry has managed to get away by paying lip service to UX and by treating performance and other non-functional aspects of their software as an afterthought. These characteristics won't help while targeting the CMO organization because CMOs are more interested in the effectiveness of technology and are driven by customer experience considerations. Therefore, to open opportunities in the CMO organization, Indian IT needs to
shed its traditional cost-centered mentality and develop a revenue-oriented mindset, and
come out of its technical shell and gain an appreciation of how people use technology to run a business instead of using technology for its own sake.
Neither is an easy change to make but Indian IT can jumpstart the transition by heeding the following realities of CMO organizations:
Online ads and social networks play a vital role in today's marketing world
UI goes beyond color and fonts and encompasses psychological drivers like shortage, sense of urgency, and so on
UI, UX and CX are super important for any customer-facing software
What looks like a cosmetic defect to a programmer (or even project manager) could actually be a CX breakdown that could cause revenue and reputation loss, both of which are critical issues for a CMO needing immediate redressal
Learn to make conversation beyond technology. CMOs are fairly garrulous (present company included!)
UI: Nice-looking form.
UX: Do we need the form?
CX: Enhance customer journey in and out of the software

— GTM360 (@GTM360) June 25, 2017
---
As I'd warned in Indian IT – Crisis Or No Crisis?, relying solely on coding, testing and other technical skills will no longer suffice. To successfully execute the above imperatives and capture the massive revenue opportunities offered by them, the Indian IT industry will need to develop new, non-technical skillsets in its delivery organization around commercial acumen, leadership without formal reporting structure, stakeholder management, marketing, and customer experience.
In a follow up post, I'll discuss the next three imperatives. Stay tuned.