Wipro lays off 600 employees due to poor performance. Cognizant fires 6000 employees consequent to its annual appraisal. So on and so forth.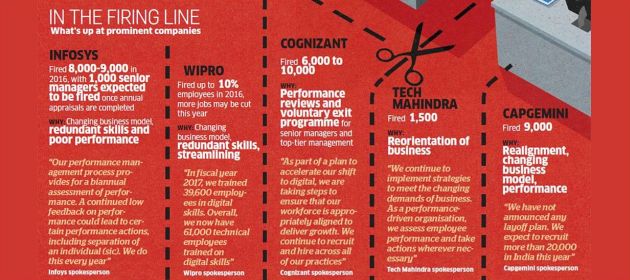 Notwithstanding all the bad news that dominates the media, rumors of existential crisis for the Indian IT industry are grossly exagerrated.
That's because, whether you use a bell curve or a parabola or good old gut feeling, 5-10% of any IT company's workforce are non-performing at any given time. Indian IT employs 4 million people directly. 5% of that works out to 200,000 people. As of now, layoffs total to 56,000, which is no where close to 5%.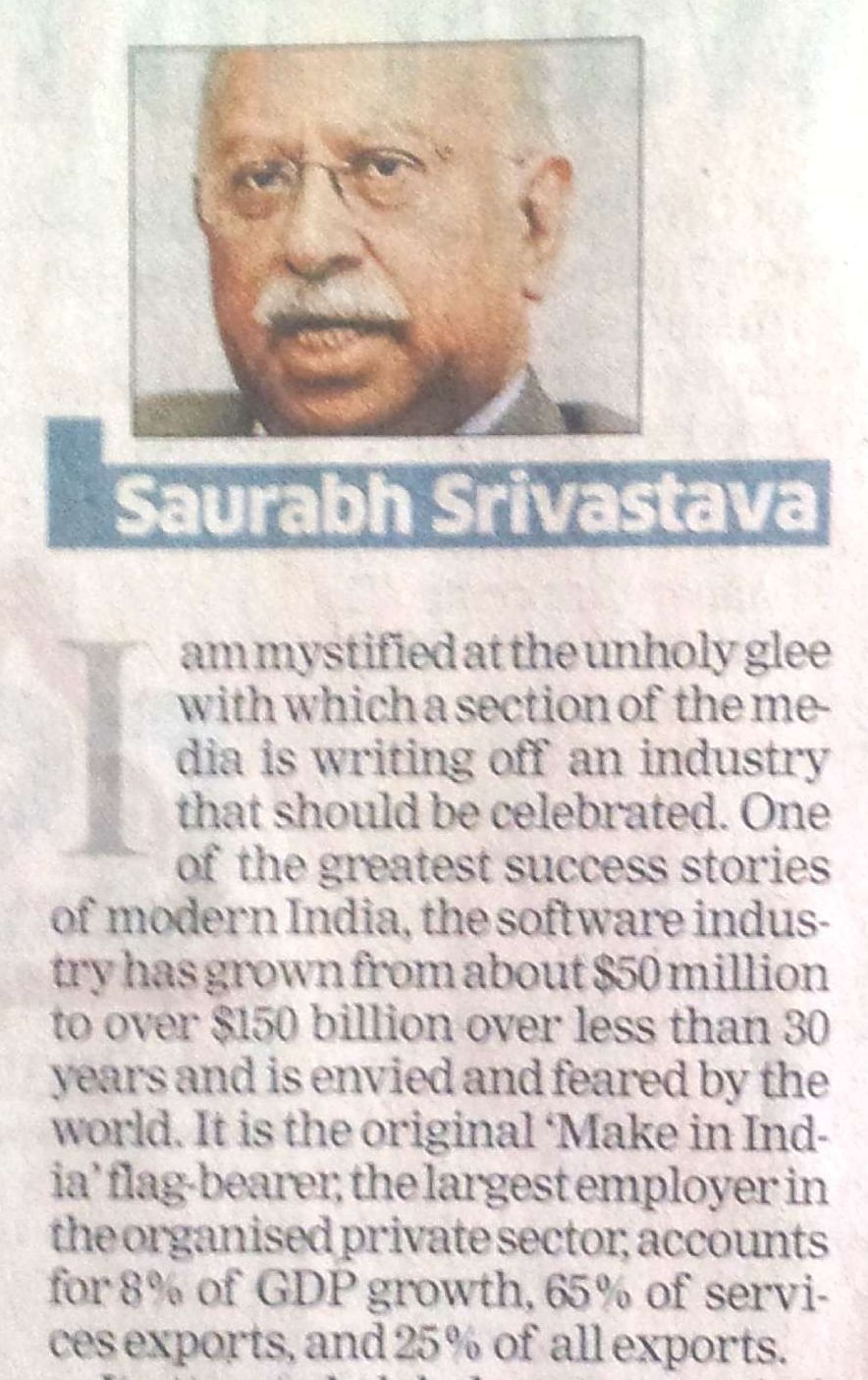 So the media is making a mountain out of a molehill.
That's also what NASSCOM co-founder Saurabh Srivastava says in his Economic Times op-ed dated 27 May 2017.
Now, let's come to the remedies proposed by media pundits.
Reskill employees on digital technologies. Fact is, for the last 4-5 years, IT companies have retrained their employees on S-M-A-C technologies that form the bedrock of digital transformation. Fact is many such retrained employees are on the bench. Problem is cloud software requires far less resources than onprem and custom-developed software, which have been the mainstay of the Indian IT industry for most of its 30 years existence. As I highlighted in my earlier blog post, IT services companies are seeing an 80% drop in billing for SAAS implementations. Furthermore, few Indian IT companies have understood the change in mindset required to engage with the CMO organization, which is by far the largest driver of digital engagements. Top to bottom, there's a surfeit of sensitivity about how to sell digital technologies. Therefore, reskilling more employees on digital technologies without addressing the other challenges will only worsen the problem.
Reskilling in digital tech is a smokescreen for the real problem. How many Indian IT companies have the skills to win large digital deals? pic.twitter.com/v2ePyWE5gz

— GTM360 (@GTM360) May 13, 2017
Indian IT should look inward and focus on mobile broadband triggered explosion of market in India. Since the dawn of the Indian IT industry in the mid 1980s, there has always been a huge opportunity to provide IT services in India. But the industry achieved global scale only by going West. That's because the West is where the money is for IT services. India gets 70% right for a fraction of IT spend as the West, which spends many times more money to get IT 100% right first time. (Some companies in the West spend more and still get IT wrong, but that's a story for another day.) As a result, while there's a lot of work available in India, I doubt if the Indian IT industry can make the big bucks it's used to by looking inward.
Bugs and all, @NPCI_BHIM app is a miracle in s/w dev. Similar apps in developed nations have taken months to develop & cost millions.

— GTM360 (@GTM360) January 6, 2017
Form labor unions to protect employee interest. This is a horrible idea. If you're above a certain age, you'd recall the number of industries virtually decimated by militant labor unions e.g. textiles. Extremely leftist in their thinking, Indian labor unions behave more commie-like than even their counterparts in Russia and China. India has moved on from those days and a return to that era won't help an industry that generates $150 billion in annual revenues largely because it has been free of labor unions.
These are extremely simplistic remedies and raise questions on whether their proponents have ever set foot inside an Indian IT company.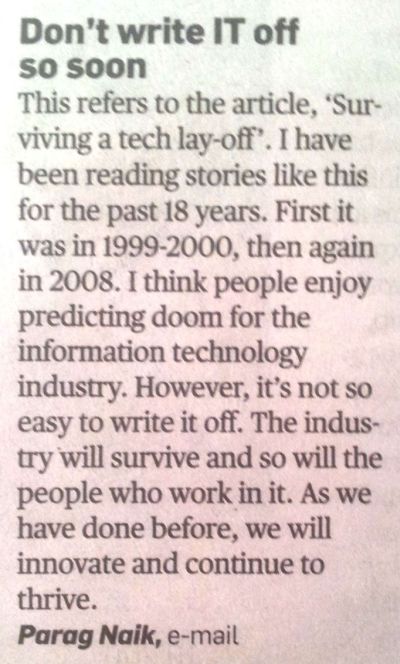 Going forward, if the number of layoffs increase and reach the 5% mark, would that spell doom for the industry?
I don't think so.
Year after year, world-class IT companies – from the West and even Japan and China in the East – shed their non-performers. Typically known as "clearing the deadwood", their annual retrenchments amount to 5-10% of staff strength. So far, it has been socially and politically difficult for Indian IT companies to do the same. The present market uncertainties have provided the Indian IT industry with the opportunity to carry out long-overdue house cleaning. While this will cause pain in the short-term to employees of the industry, the industry itself will emerge more competitive from the exercise. And, as Parag Naik points out in his email to the The Economic Times, eventually the good quality people who work in the industry will also thrive.
Does this mean the industry can be blasé about the future?
No. The Indian IT industry faces a looming crisis on the horizon from growing automation, digital challenges, H1B restrictions and Trumpism-driven Middle America outsourcing.
How can the industry avert this looming crisis? Based on my experience of working in the Indian IT industry for over two decades, I can think of the following imperatives:
Go up the value chain from project management to program management
Gear up to win large digital transformation deals
Help customers avoid building software systems from scratch.
More on these in a follow-on post. Watch this space.
(Spoiler alert: These imperatives will call for new capabilities that go well beyond coding, testing and other technical skills that have been the mainstay of the industry so far.)