In his book Loyalty 3.0, author Rajat Paharia, Founder of gamification solution provider Bunchball, says that loyalty programs of most brands generate loyalty to the deal but completely fail at their fundamental purpose of fostering loyalty for the brand.
Uber is a great example of such a brand.
In Mastering Targeted Offers – The Uber Way, we saw how Uber uses targeted offers to generate loyalty for its deals.
Ironically, it's another type of targeted offer – or, more precisely, the way in which Uber runs it – and a few other practices followed by Uber that hamper fostering loyalty for the brand.
#1. SHADY WAY OF RUNNING SURGE PRICING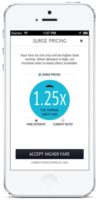 Surge pricing is the culpable targeted offer I'm referring to.
For the uninitiated, surge refers to the multiple of normal fares charged by Uber from time to time. For example, 1.25X surge means the fare is 25% more than the normal fare and 8X surge means the fare is eight times the normal fare (Don't flinch, Uber has reportedly run trials of 50X surge in Sweden).
Surge is a form of dynamic pricing practised by airlines, hotels and ecommerce for ages. While these industries have seemingly gotten away with the practice, Uber has attracted a lot of bad press for it. That's probably because cab riders are hard-pressed in a way that vacationers or online shoppers are not. But I digress.
Uber uses fancy verbiage to spin surge pricing. According to its website, "surge helps ensure that pickup is available quickly and reliably". But virtually no customer likes surge. As HBR says, "surge pricing has a major image problem. Hardly anyone has a good thing to say about it, and far too many people equate it with price gouging."
That includes me. I abandon my booking whenever I suspect a surge price. Which, according to personal experience and anecdotal evidence, is switched on quite regularly:
3X surge the moment it starts raining in Mumbai or snowing in New York City
2X surge when phone battery goes below 20% and 4X surge when it goes below 8%
5X surge if you enter a hospital in the "Where to?" box.
The second and third instances of surge pricing belie Uber's claim that it uses surge solely to match demand and supply.
But Uber is a for-profit company operating in a free market and it's well within its rights to seek whatever premium it wants whenever it wants. Just as I'm well within my rights to take an Uber ride or not.
So surge pricing per se does not sully Uber's brand image (although it does crimp repeat purchase).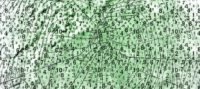 What does tarnish Uber's brand in my mind is the way it communicates – or does not communicate – surge pricing. When it introduced surge a couple of years ago, Uber had committed that it'd provide warning of surge pricing before passengers confirmed their booking. That's not happening lately.
After I updated to the latest version of Uber's app, I don't see any surge warning. If I want to avoid getting ripped off, I need to find out my trip distance and time, calculate Uber's normal fare for the trip, compare the figure with the estimated fare displayed by Uber, and then infer whether surge pricing is on or not. Every booking has become a painful, mini-R&D project. As a result, I think twice before I fire up the Uber app.
#2. AMBIGUOUS RECEIPTS
Uber displays the receipt summary on the app and sends the detailed receipt by email. Receipts have become ambiguous of late. My wife's receipts show distance and time fares separately. Mine only show the overall fare. When Targeted Offer #4 (25% off for next three rides. No Promo Code required) was on, I booked a ride from her app and got the promised 25% discount. I happened to book another ride on the same day from my app. I expected either 25% off (assuming I was eligible for the offer but hadn't received Uber's communication about it) or no discount (if I wasn't eligible for the offer). As you can see from the receipts for these two trips, something else happened: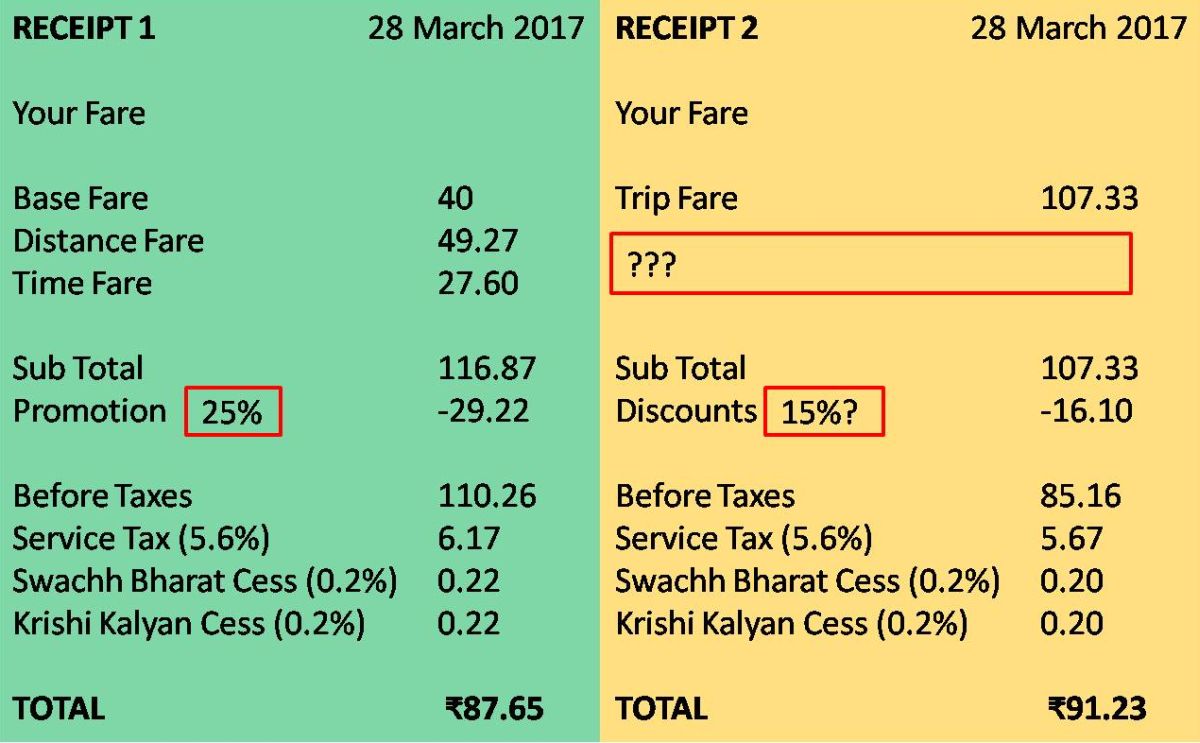 On this occasion, I got a gift horse that I shouldn't look in the mouth. But, on another occasion, I might get a 4X surge slap on my face. Scary!
#3. OSCILLATING BUTTONS ON ORDER PANEL
The UberGO button normally comes before the UberX button on the ordering panel of the app, as shown below.

For the uninitiated, the cheapest private cab offering of Uber is UberGO, which is a hatchback. The next higher offering is UberX, which is a sedan.
One day, I was going to travel to a frequent destination. I got a fare estimate, which was almost double the usual fare to that destination. I was wondering if surge was on. It wasn't. Just that, by habit, I'd tapped the second button on the panel to order an UberGO but, on this occasion, Uber had placed the UberX button on the second place. Had I taken a screenshot, the order panel would've looked as follows:

In short, Uber had tried to trick me into ordering the costlier UberX cab when I wanted the cheaper UberGO option. Sneaky!
(#ProTip: When you book an UberGO, more often than not you end up getting the more spacious UberX cab. That's because UberX drivers tend to accept UberGO orders. Therefore, savvy riders never book an UberX – they just enjoy it without paying anything extra!).
#4. CASUAL SOCIAL MEDIA SUPPORT
After I updated to the latest version of the Uber app, I noticed that the UberHIRE button was missing. Like I do with all brands as my first port of call, I tweeted to Uber.
Let me reproduce the thread below:
@s_ketharaman Ketharam, we are sorry to know about this. Have you tried to delete and reinstall your app once?

— Uber India Support (@UberINSupport) April 13, 2017
@UberINSupport Yes, doesn't help. Besides, UberHire button is missing in another phone with same app version.

— S.Ketharaman (@s_ketharaman) April 13, 2017
Then, there was radio silence from @UberINSupport. I still don't see the UberHIRE button on my app.
On top of that, they didn't even spell my name right! So, I'm a bit outraged. I'll recuse myself and leave it to you to judge whether I used the right language for the heading of this point.
#5. VANISHING EMAIL SUPPORT
I've never cancelled an Uber ride. But a few drivers have bailed out after accepting the ride. Uber has always billed me a cancellation charge of INR 60. I've never understood why I should be penalized for no fault of mine. Without digging too deep, I've simply forwarded Uber's receipt for this charge to support@uber.com and sought a refund. I've gotten it promptly in the past.
But not any more.
When this happened most recently, my email to Uber bounced back. I found out that Uber has stopped email support. AFAIK, Uber never offered telephone support.
Kudos to @Olacabs for having one of the best Call Center CSR teams of any Indian brand. pic.twitter.com/fpkyOOc1Mq

— GTM360 (@GTM360) July 19, 2016
I gave up trying to recover this amount. Which is probably what Uber wanted me to do for the welfare of its P&L.
But this is a cheap tactic and leaves a bad taste. The way I see it, for all its prowess for raising billions of dollars of funds and its distinction as the world's most valuable privately held company yada yada yada, it's extremely sad if the only way Uber knows how to make a profit is to snooker its customers out of a paltry sixty bucks (which is less than a dollar).
---
Caveat emptor or "buyer beware" is a universal warning while dealing with any brand. But, even by that standard, it's hard to be loyal to a brand you find Shady, Painful, Scary, Sneaky, Casual and Cheap.
That said, I'd be remiss if I missed out a recent update: Uber named me Top Rider of the Week a couple of weeks ago.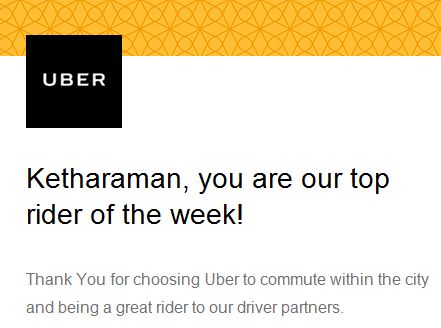 Called "reputation badge" in gamification, it's a technique advocated by CEM gurus to go beyond generating loyalty to deals to fostering loyalty for brand.
Looks like Uber has taken the first step in that direction. I just hope this initiative doesn't get drowned in the noise of the other questionable practices followed by the company.