In Reliance JioFi First Impressions, I'd shared my experience of buying the Portable 4G Pocket WiFi Router and onboarding the 4G Internet connection from Reliance Jio in September 2016. I'd followed this up with another post a month later in which I'd recounted my first two months' experience with Reliance Jio. At the time, the Internet service was free.

Reliance Jio recently announced the end of its free trial period by 31 March 2017 and launched a membership program called Jio Prime and a series of paid topup plans that will become effective from 1 April 2017. Fashioned after Amazon Prime, Jio Prime has a membership fee of INR 99 (US$ 1.5) for the first year. While Jio Prime members have a wide choice of topup plans, the most heavily promoted one offers 1GB data per day for 28 days at a price of INR 303 (US$ 4.7).
Just as Jio is transitioning from free to paid service, my other Internet connection started sucking big time. Apparently, the provider of this connection has a generic network issue in my neighborhood and no clue as to when it'd be able to resolve it. Therefore, I decided to cancel its connection and opted to continue with Jio.
In this third and final installment of my 3-post series, I describe my experience with Reliance Jio over the last three months and the process of signing up for Jio Prime recently.
#1. SPEED HAS TANKED BUT EXPERIENCE IS BETTER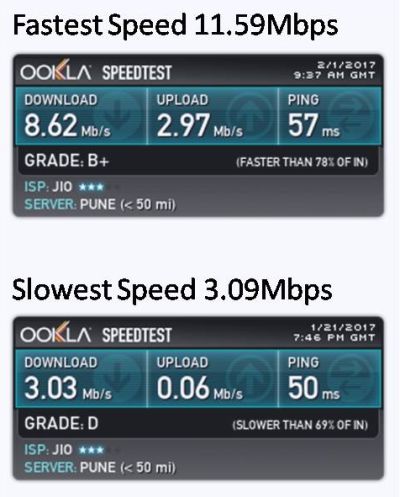 Gone are the speeds in the 20-30Mbps range I got during the first two months of using JioFi. Of late, I'm lucky to get even 10Mbps. For the record, the fastest speed I got in the last three months was 11.59Mbps and the slowest, 3.09Mbps.
However, I'm more happy with my experience with JioFi now.
That's because its uptime has improved considerably and ping times have dropped a bit.
In my update dated 10-Oct-2016, I'd reported that my JioFi connection suffered from >50% outage. These days, I get upwards of 90% uptime. Average ping time has dropped from 75ms then to 65ms now. Knock on wood!
Although downloads take longer, bulk of my Internet use is for surfing and content marketing. High uptime and low ping time play a much bigger role in delivering a superior user experience in my usage scenarios.
I also take this opportunity to give props to Reliance Jio for providing reasonably good quality of service during my recent trip to Tirupati and back via Bangalore. For the uninitiated, these routes pass through many small towns and villages. My experience with quality of Internet connection from other Internet Service Providers at these remote places is not great.
#2. ONE EXTRA PAYMENT PER YEAR
As against the industry standard of 30 days, I noticed that Jio's INR 303 topup plan had a validity period of 28 days. When I signed up for it, I didn't think much of this. It was only after I came home and did a little math that I realized what Reliance Jio has done here: By trimming the validity period slightly – so slightly that most customers probably won't notice it – Reliance Jio has created 13 payment periods per year (365 / 28 = 13.03) unlike other ISPs who get only 12 payments a year with their 30 day plans.
Well played Reliance Jio! Wonder if the company picked up this hack from Western Europe, where employees typically receive a 13th month salary as bonus each year.
#3. ONBOARDING IS STILL FORMLESS…
In my previous post, I'd felt that Reliance Jio was able to roll out a formless, paperless and signatureless onboarding process because it was giving out free connections. At the time, I'd wondered what'd happen when Jio eventually started charging for its service.
Well, Jio just launched a paid plan. I signed up for it and paid up for three months. There's still no form, document to submit or wet ink signature. I was pleasantly surprised to learn from the salesperson at the store that the Aadhaar e-KYC done when I enrolled for the service in September 2016 continues to be valid now.
Smartphone eats the scanner. Cardboard box at Jio POS to scan customer docs. pic.twitter.com/k2Nr9fnaXL

— tubelite (@tubelite) March 11, 2017
eKYC eats both! I just signed up for Jio Prime. Still no form, no documents, no wet ink signature.
https://t.co/kh7IGdYqBX

— S.Ketharaman (@s_ketharaman) March 11, 2017
Kudos once again to Reliance Jio for reiterating its commitment to formless onboarding. Hope other service providers follow suit.
#4. …BUT SCRAPPY
That said, there's still a lot of scope for improvement as regards confirmations and notifications. After signing up for a plan and paying up for three months in advance with my credit card, I was expecting to get details of my entitlement under the selected plan and a receipt for my purchase. But all I got is this piece of paper: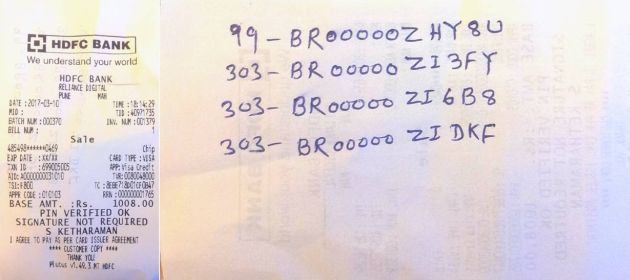 The image on the left is the credit card chargeslip. On the reverse of it, the salesperson scrawled the order numbers for my four orders (one order each for membership plus topups for three months). I doubt if I'd have gotten even this much if I'd paid by cash.
I asked for a more formal confirmation of my plan and payment. The sales guy kept saying "it's all in the system". Normally, I don't accept such vague assurances but, on this occasion, I let it pass because I did have the credit card chargeslip to prove my payment.
Whenever they tell you, "Why do you need a receipt, it's there in the system", remember, it's their system, not your system (@ClarkHoward)

— GTM360 (@GTM360) June 4, 2015
I left the store, quite sure that the sales guy couldn't do anything more and hoping that everything would work out fine.
#5. HOPE THERE ARE NO BILLING ISSUES
That was not to be.
A few hours later, I got an SMS from Reliance Jio. I thought it was the plan and payment confirmation that I'd sought at the store. But it turned out to be a pitch for Jio Prime and a missive for me to join the membership program at the earliest! Either this was the result of a channel disconnect or, worse, a sign that Jio's system had no record of my instore transaction.
I no longer sat tight hoping for the best and decided to initiate action. I tweeted @RelianceJio with a subtle reference to the notorious billing problems faced by millions of Reliance mobile phone subscribers a decade ago:
2 hours after paying for Jio Prime, I get an SMS from @reliancejio asking me to join Jio Prime! Hope there are no billing problems:( pic.twitter.com/9XZPSLqnJ1

— S.Ketharaman (@s_ketharaman) March 11, 2017
I got a prompt reply asking me to submit my Jio # and alternate mobile phone number.
I'll spare you the details but my request for proof of purchase – and registration on jio.com website – face a challenge: Unlike the vast majority of Jio's 100 million customers who bought its SIM card for their mobile handsets on which they can receive notifications, I bought a router that can't receive SMSs.
When I began this post, Reliance Jio's social media support agent and I were going around in circles. However, by the time I finished it, I got a written confirmation of my purchase on Twitter.
All's well now.
---
On that upbeat note, I conclude my third and final post on my impressions of Reliance Jio's free trial period, but not before observing that:
All good things don't come to an end. They just stop being free!
UPDATE DATED 1 APRIL 2017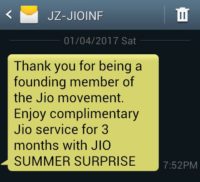 Actually some good things don't even stop freeing free!
I got an SMS from Jio today saying it's giving all Jio Prime members three months complimentary service. Despite its date, the message is genuine.
*: Radhika Iyer is my niece and a final year student at MIT Institute of Design. She runs her blog called Design for X.