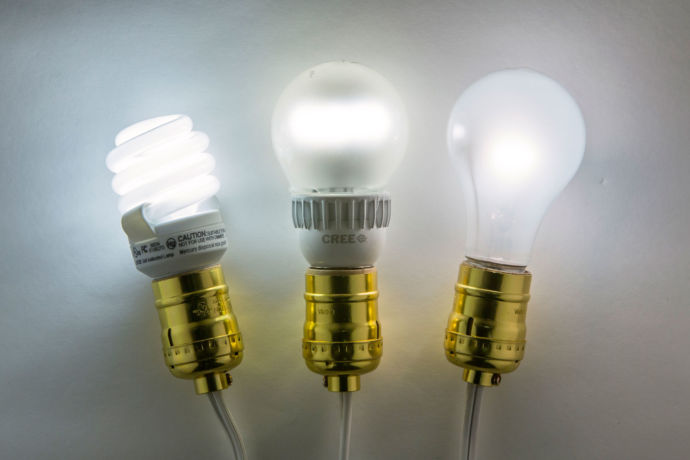 At the outset, this post is not about how to recite Genesis 1:3 in a thick Malayalam accent:) It's about ways to stimulate the use of LED lights.
But, first, some background:
I was very excited to read about UJALA Dashboard in an Economic Times article titled "LED There Be Light" (now you know the real inspiration for this post's title!). Standing for Unnat Jyoti By Affordable LED's for All, UJALA is the name of Government of India's scheme to "promote efficient use of energy at the residential level; enhance the awareness of consumers about the efficacy of using energy efficient appliances … thus facilitating higher uptake of LED lights by residential users" (Source: UJALA FAQ).
Developed by the Ministry of Power of the Government of India, UJALA Dashboard monitors the progress of the government's LED distribution program.
The dashboard displays the total number of LED bulbs distributed, energy and cost savings, CO2 reduction, among other metrics – all in realtime. As I write this post, I see the following numbers on UJALA Dashboard: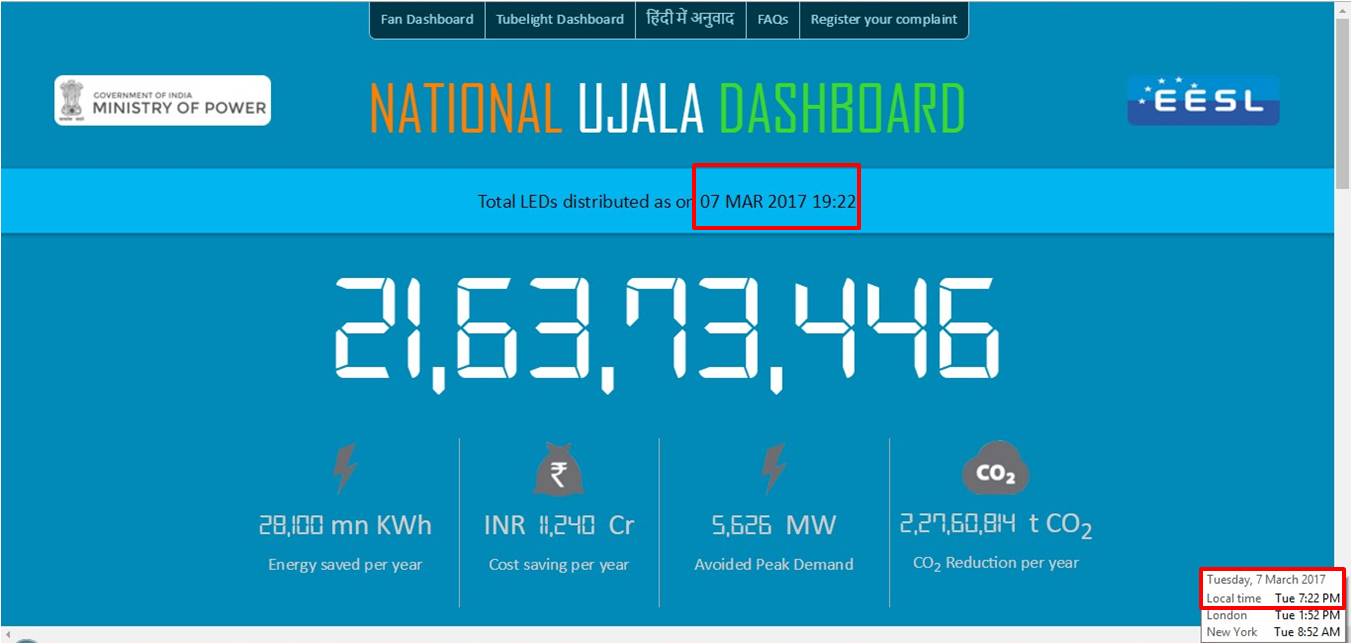 The scope of the dashboard is truly stunning when you consider that it aggregates information from across 30+ states of India and, that too, in realtime. UJALA is the only realtime dashboard I've seen anywhere in the world of any nationwide program, whether run by government or private enterprise.
Soon after reading the ET article, I stumbled upon a few factoids about LED.
An LED is a tiny chip encapsulated in a resin encapsulator which makes LEDs far more sturdy than ordinary bulbs. pic.twitter.com/Q4PdmSjKoE

— EESL India (@EESL_India) July 21, 2016
As a result of all this, the techie in me was deeply impressed by LED technology and the consumer in me decided to support UJALA by migrating all lights in his house to LED bulbs.
I immediately headed to the neighborhood hardware store and found out that an LED lamp of my desired wattage cost around INR 450 (~US$ 7). I then called my electrician and asked him for his time and cost estimate for replacing all my existing incandescent lamps and tubelights with new LED bulbs.
My LED migration journey began soon afterwards. It has still not ended. I'd say I'm somewhere at the halfway mark as of now.
Based on my experience to date, I've thought of three ways by which the government can drive greater "uptake of LED lights by residential users", a core mission of UJALA.
#1. SPREAD AWARENESS OF LED SUBSIDY
Pointing to an ad in my latest electricity bill, my electrician told me I needn't buy LED bulbs from the open market at INR 450 apiece. According to the ad, the government was offering a bulb at a highly subsidized price of INR 100 (US$ 1.5). All I had to do was show my latest electricity bill to my utility company and collect a maximum of ten LED bulbs against a payment of INR 1000 (US$ 15). IMO, the government is justified in rationing out the subsidized LED bulbs – otherwise, the huge difference between their subsidized and open market prices will create a big black market for the bulbs. But I digress.

I must have seen this ad several times in my electricity bills but it had never registered. Probably because it's in the local language. I have nothing against the use of local languages but the ad breaks the cardinal principle of marketing by failing to talk in the consumer's language, which, in this case, is English. I remember an old warning issued by Helmut Kohl, ex-Chancellor of Germany, to foreign companies setting up shop in Germany in the '80s and '90s: "I'll sell in any language but I'll buy only in German". Credit where credit's due, the UJALA dashboard defaults to English, with an option to click on a button to view the dashboard in Hindi, the most widely spoken language in India.
By printing this ad in the customer's preferred language – if not bilingually – the government can raise the awareness of its LED promotion scheme and entice more people to buy LED bulbs at the deeply discounted price for which it's offering them.
#2. FACILITATE EASY MIGRATION TO LED
The electrician inspected the existing lamps in my house and noticed the type of sockets used by most of them.

Unfortunately, these holders can't accommodate LED bulbs, which require a different type of holder.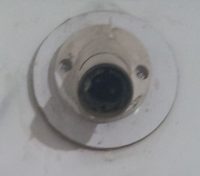 While it doesn't cost much to replace the holders, it's not so easy to get hold of an electrician willing to do such small jobs – at least in my neighborhood. I wrote about this problem in Changing Face of DIY Markets. Sadly, eight years later, the problem hasn't gone away – despite the fact that over 50 "Uber for Handymen" startups have mushroomed in the interim period. Instead of alleviating the pain, these startups are shutting down at an alarming rate.
Saying that he didn't have the time on that visit to replace twenty-odd holders, my electrician scooted with the promise to come back on another day when he had more time. That has still not happened.
As a result, I've been able to replace only around 40% of the existing lamps, which happened to have standard 2-pin holders.
I don't know what can be done by the government to solve this problem but facilitating easy migration from existing lamps to new LED bulbs is a critical success factor for UJALA.
#3. RECORD EVERY SALE
The guy at the utility company who sold the LED bulbs didn't record my name or consumer number from the electricity bill I'd carried along. He didn't give me a receipt for my purchase, either. Nor did he record the transaction anywhere that I could see. This may not affect the actual proliferation of new LED bulbs but it does compromise the integrity of UJALA Dashboard.
The government should ensure that operational level shortcuts like this don't create scope for pilferage and blackmarketing nor lead to delayed-/under-/mis-reporting of UJALA's progress.
---
I've been having a few LED lights in my house for three months or so. I continue to have many incandescent lamps and tubelights. Let me make a quick-and-dirty comparison between the old and new type of lights:
LED bulbs are as bright as the existing lights
Even after hours of operation, LED bulbs are cool to the touch unlike incandescent lamps that singe even after being on for only a minute or two
Compared to incandescent lamps that come on instantly, LED bulbs take around two seconds to start glowing. Before you ask, that's long enough for the human brain to wonder if the bulb has blown. In the early days, the delay caused quite a bit of cognitive dissonance. Then I stumbled upon the story of a light bulb in California that has been on almost continuously since 1901 in THE L.E.D. QUANDARY: WHY THERE'S NO SUCH THING AS "BUILT TO LAST". After reading THE NEW YORKER article about this bulb, I'm convinced that my new LED bulbs installed in 2016 couldn't have blown so soon and that they'll start glowing before I leave the room.
I haven't analyzed the BEFORE / AFTER figures in my electricity bills to verify if my partial migration to LED has resulted in any savings on my power bills. But, as testimony of my enthusiasm for LED, I'll gladly pay full market price – I've already exhausted my entitlement of 10 subsidized LED bulbs – to replace the remaining lights in my house with LED bulbs. Provided someone makes sure that my electrician turns up at my doorstep at the appointed date and time committed by him.