On a recent tweetchat about social media customer service, many tweeples felt that the channel was only suitable for escalation.
Not me.
Although it was for escalation that I first used social media a few years ago – to get my malfunctioning printer fixed – the channel has become my first port of call nowadays. That's because:
Telephone means having to listen to hold music and navigate through convoluted phone trees. This is painful and time-consuming.
Website means trying – mostly in vain – to fit my problem to the list of options available on the site.
On Twitter, I just need to find the brand's handle and fire away my query, request or complaint.
Maybe because no one likes their dirty laundry to be aired in public, brands respond to social media complaints quite fast. My problem is often solved on Twitter by the time I navigate a phone tree or select an option from a dropdown box to log a ticket via phone / website.
4 minutes. That's the fastest response I've EVER got from ANY brand to my complaint. Kudos to @RailMinIndia https://t.co/7LS8KjS1gs

— S.Ketharaman (@s_ketharaman) February 8, 2016
In short, social media is faster and more frictionless than telephone, website, mobile and the other traditional customer service channels. You can find more details in Customers Of The World Unite, You Have Nothing To Lose But The Call Center Hold Music.
I recently discovered another facet of social media customer service that has made this my go-to channel more definitively than before. This happened during a train journey from Pune to Renigunta / Tirupati last year. For the uninitiated, Pune is a city in West India and Tirupati is a temple town in South India.
Soon after boarding the train, I found out that there was no water in the toilet. Passengers inside the coach were complaining to the Train Ticket Examiner (TTE). For the uninitiated, the TTE is the seniormost-ranking railway official on an Indian train, with powers to check tickets, levy fines and accommodate passengers without reservation. Flaunting his authority, the TTE pushed back with the excuse that he'd requested for filling water in the toilet at the previous station (Surat) but it didn't happen. He tried to shoo off the passengers saying he couldn't do anything more. In turn, the few bold ones among the passengers pointed out that it was his responsibility to get things done for passengers. To which the TTE shot back saying they had no right to tell him how to do his job.
I realized that this was going nowhere and returned to my seat.
I vaguely recalled reading somewhere that Indian Railways provided support on Twitter. I Googled for the handle on my smartphone – luckily the train was passing through a place with good network coverage – and sent out the following tweet:
@railminindia No water in 2nd AC coach:-( My PNR # is 8342517851. Can you please help? Train just left Pune.

— S.Ketharaman (@s_ketharaman) January 30, 2016
A few minutes I got a reply:
@s_ketharaman Matter notified to the concerned officials @drmsolapur

— Ministry of Railways (@RailMinIndia) January 30, 2016
An hour or so later, the TTE came to me to explain the action he'd taken and assured me that watering would definitely happen at next stop (Solapur). (It did).
End of complaint.
But start of my realization that there was another angle to social media customer service that hadn't caught my attention before.
I had my ephiphany moment when I read about Indian Railways' Twitter customer support department recently. According to Economic Times, the @RailMinIndia Twitter account is monitored at a central war room at the Rail Bhawan in New Delhi. As soon as it receives a tweet from a passenger, the team goes into action. From the PNR number, it identifies the train, finds out where it is, maps its location to the railway division responsible for managing the train on that stretch and forwards the tweet to the Divisional Railway Manager (DRM) of that division. In parallel, someone from the team calls up the TTE and the DRM to follow through on the tweet and tweets an acknowledgment back to the complaining passenger.
In my case, this happened in four minutes.
This is amazing, given the size of Indian Railways' network and the federated manner in which the organization is run.
According to Wikipedia, Indian Railways runs 12617 passenger trains and 7421 freight trains daily across one of the world's largest railway networks comprising 115000 km of track and 7112 stations. It's administratively divided into 16 Zones, which are subdivided into 70 Divisions. Each Division is headed by a Divisional Railway Manager (DRM) (Source: Wikipedia). During its journey, a train traverses one or more zones and divisions. Depending upon where exactly it is at a given point in time, it comes under the administrative control of the Divisional Headquarters that has jurisdiction over the given stretch of track. For example, during its 960 kms journey, my train went through two zones (Central Railway and South Central Railway) and three divisions (Pune, Solapur and Guntakal).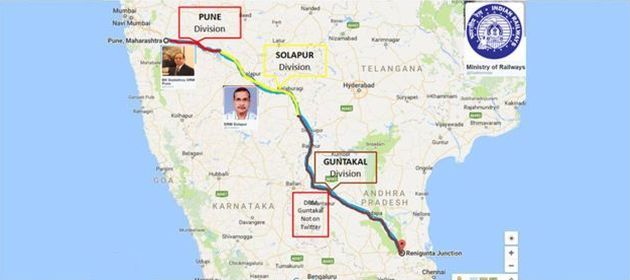 But I digress.
After reading this article, it was clear that my tweet to @RailMinIndia had set off a sequence of events in the background that ended with a nudge to the TTE from his superbosses at Rail Bhawan. Not surprisingly, the same guy who was flexing his muscles with the other passengers took a very conciliatory approach with me.
This experience made me realize that social media upends traditional power equations and changes the basic paradigm of customer service. It's no longer the case of a hapless passenger trying to get heard by a supercillious government employee. Thanks to Twitter, the passenger has the whole might of the organization working for them.
This is easily visible with public sector organizations like Indian Railways in my instance. But, going by my first ever experience of using social media to get my printer repaired a few years ago, the channel similarly empowers customers even with private sector brands – just that it works behind the scene in those cases.
On a related note, any communication medium that becomes popular tends to get abused. Social media is no exception. However, unlike other channels, the very open nature of social media can be used to discourage its frivolous use.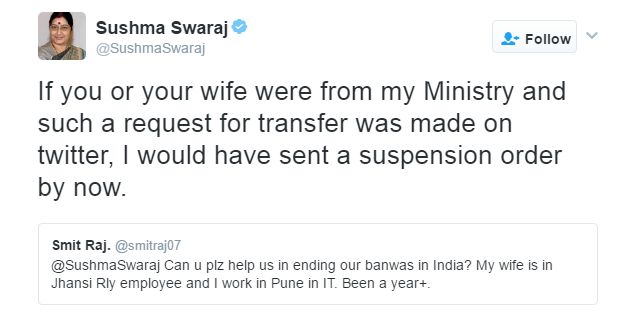 Whether or not companies leverage social media to publicly name and shame offenders, the channel does have the built-in capability to curb abuse.
UPDATE DATED 6 FEB 2017: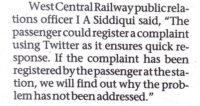 Now, even service providers want their customers to use social media as their first port of call for seeking customer service!