Since I wrote Strange Happenings In Amazon India, I went through another experience with Amazon India. It was so strange that it merits a separate blog post. Here goes.
I'd recently ordered a leather wallet from Amazon India. When I received it, I realized that it didn't have a coin pouch. Therefore, I wanted to return it. I logged in to my Amazon India account to initiate the return. During the process, I was taken to the the refund screen where I'd to select whether I wanted the refund amount credited to a Gift Card or my Bank Account. I selected the second option. I was about to enter my bank account details when I saw two entries already listed there. I was shocked at this because:
I've never set up any bank account on Amazon.
The first entry was in my name but showed an account number that wasn't mine.
The second entry was in the name of "Mueller Schmidt" (for the uninitiated, this is the German-language equivalent of "Tom Dick & Harry"). Given that Amazon insists that the account must be in my name, I was wondering how such a wildcard account could be set up under my login.
All this reeked of a data breach and, that too, by an insider.
My suspicions were confirmed a few days later when I received an email from Amazon India stating "we discovered that your Amazon.com email address and password may have been compromised".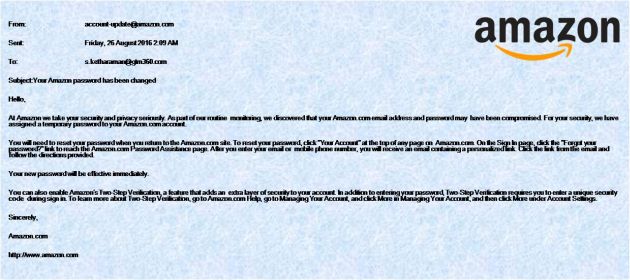 I deleted both the bank accounts in the refunds section. I also took the opportunity to delete all my credit cards on file in the payments section. This meant that I'd be even more resolved to use my preferred payment mode of Cash on Delivery in future. But I digress.
I then proceeded to enter the details of my bank account into which I wanted my refund amount to be transferred. The CONTINUE button at the bottom of the form was dimmed. I didn't know how to proceed and bailed out.
I didn't get any email or SMS confirmation for my return request. Nobody turned up at my doorstep to pick up the product, either.
It was obvious that my return request hadn't gone through.
I went back to the returns screen and selected the Gift Card option instead. The CONTINUE button was now activated. I clicked on it and scheduled the pickup date and time per my convenience. This time, I did get a confirmation for my return request. A couple of days later, the collection guy landed up randomly without paying any heed to the pickup appointment selected by me. Luckily, since I was at home when he turned up, I was able to hand over the product to him.
This experience made it clear that Amazon was issuing refunds only in the form of store credits. In other words, it was forcing consumers to spend their refunds on Amazon.
I didn't like this practice when India's #1 ecommerce player Flipkart tried it earlier last year.
If Money Wallet is its backdoor tactic to convert refunds to store credit, I'm outta @Flipkart https://t.co/bM3ouhxXeY

— S.Ketharaman (@s_ketharaman) March 14, 2016
I didn't like it when Amazon was trying to the pull the same trick on me now. It's no different from the traditional practice of brick-and-mortar stores who are supposedly getting disrupted by Amazon and other new-age ecommerce sites.
This is not the kind of CX I expect from Amazon, a brand for which I exhibit cult loyalty.
If things continue like this, I may be compelled to end my 15+ years of association with Amazon and move my custom to another etailer. Luckily, "winner takes all" is not yet a thing in the Indian Internet services business, so I've a fairly long list of alternatives to Amazon India.