I exhibit cult loyalty for Amazon among a few other brands. As I wrote in What Drives Cult Loyalty?,
I've been shopping on Amazon for over 15 years in Germany, UK, USA and, finally, India, during which period I must've bought at least 100 items from it. Knock on wood, Amazon hasn't even bungled a single order so far!
I guess I didn't knock hard enough. Because I had problems with nearly every one of my recent orders on Amazon India.
#1. GIFT COMES TO GIFTER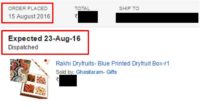 My wife placed an order for a Raksha Bandhan gift for her brother. This Indian festival celebrates the love and duty between brothers and sisters. To ensure that the consignment reached before the festival – it fell on August 18 this year – she paid extra freight charges. Lo and behold, instead of her brother, I got the gift on the morning of Raksha Bandhan! As befits a gift order, there was no invoice on the package. However, there was no mention of Amazon anywhere on the package either. In fact, the gift was delivered in the packing of another ecommerce company. Several months later, my Amazon buyer dashboard still shows the order status as "Dispatched. Expected 23-Aug-16", which is strange since it's already November!
#2. PRIME – LOYALTY OR DISLOYALTY PROGRAM?
Amazon recently launched its Prime program in India. I quickly signed up for it. While Prime promises 1-2 day free delivery, Amazon committed nothing earlier than 5 day delivery period when I actually placed my orders. And, in a recursive twist, the delivery of Amazon Prime Welcome Kit itself took over 20 days!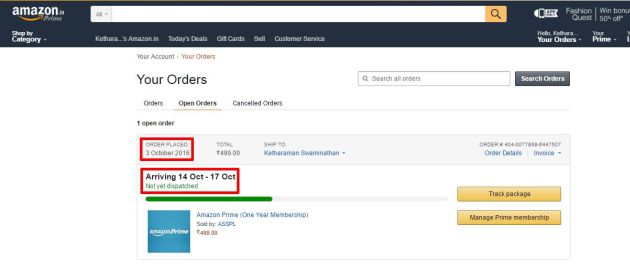 #3. COD VANISHES MYSTERIOUSLY
While shopping for razor cartridges, I went to the product page and selected the COD (Cash on Delivery) payment option. I saw a fairly long list of sellers. I clicked the one in the Buy Box and proceeded to checkout. In the penultimate step, Amazon informed me that COD was not available for this seller. I thought this was strange – if COD wasn't available, why did Amazon show this option to me in the first place when I'd set my filter to COD? All my cult loyalty for Amazon couldn't stop me from feeling cheated on this occasion. I abandoned the shopping cart, went over to another ecommerce website and placed my first order there. Now, this competitor of Amazon has been wooing me for 5+ years, but I'd stayed loyal to Amazon India. But this one shady act of Amazon India achieved for the competitor what five years of its special offers could not. At the time, I thought this was something specific to Amazon India. It was only when I read Amazon Says It Puts Customers First. But Its Pricing Algorithm Doesn't about Amazon USA a month later that I realized that I probably had my first taste of Amazon's dodgy algorithms.
---
After 15+ years of being loyal to Amazon, it may be too early for me to give up on the ecommerce giant. But companies are known to give CX the short shrift when shareholders ask too many uncomfortable questions about their revenues and profits.
As funding dries up, CX degrades. Why am I not surprised? @imkialikethecar https://t.co/OpqWRk0xuIhttps://t.co/2tcMvpb6I4

— S.Ketharaman (@s_ketharaman) October 25, 2016
So I'll keep my fingers crossed.