In a world that's awash with exuberant projections of mobile payment spends in 2022 from products that are not yet launched in 2013 – no, I'm not just looking at you, ISIS – GigaOm introduced a sense of reality by providing some actual figures. Quoting Berg Insight in this article, GigaOm reported a total mobile payment spend of US$ 500M in the USA last year. Most of this happened at Starbucks.
From here, it might be tempting to infer that mobile payment is a very – if not the most – popular method of payment at Starbucks. But, that'd be jumping to a wrong conclusion. The same way as it would be to start from the factual statement "The USA dominates Indian IT services" and end with the erroneous conclusion, "India dominates American IT services".
Before going further, let me first list down the number of ways in which Starbucks accepts mobile payments:
Starbucks Card App
Digitized version of loyalty card to which consumers can upload $$. The money can be spent only at Starbucks. In other words, this is a "closed loop" method of payment (MOP).
Square Wallet
Consumers can pay with the digitized version of their regular network credit or debit card. This is an "open loop" MOP.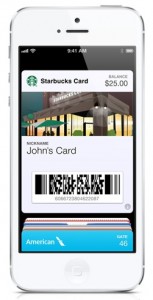 While the company doesn't make an explicit mention of Apple Passbook and KeyRing, many consumers report using these third-party mobile apps to scan in their Starbucks plastic loyalty cards and pay for their lattes via smartphones (see here and here). In fact, Apple illustrates Passbook on its website by using the Starbucks Card (at least it used to do so until its website underwent a refresh subsequent to the recent iOS7 upgrade).
All these mobile payment methods together generated a spend volume of almost US$ 500M at the coffee retailer. This works out to a measly 3.75% of Starbucks' revenue of US$ 13.3B in FYE 2012 (Source: Yahoo! Finance).
This means the coffee retailer derived over 96% of its revenue from other instruments like cash and plastic cards.
Even going by transaction volume, Starbucks' recent announcement that 10% of instore payment transactions happened by mobile means that 9 out 10 transactions at Starbucks took place with cash and plastic cards.
Therefore, whether it's reckoned by spend or transaction volumes, mobile payments have a long way to go at Starbucks.
It's true that the company is equipping an increasing number of its stores to accept payments by scannning bar codes displayed on smartphone screens. It also invested US$ 25M for a 0.8% stake – see this Q&A on Quora – in the mobile payments startup Square last year. These initiatives signal the company's confidence in the rising popularity of mobile payments in the years to come.
However, as of now, mobile payments is nowhere near Starbucks' dominant MOP.
As an aside, the fact that its share by spend (3.75%) lags that by transactions (10%) might suggest that the average ticket size in dollar terms is lower for mobile transactions than cash or card payments. This doesn't make much sense on first glance but it doesn't change anything – even ascribing the higher 10% share to mobile payments, cash and plastic cards still reign supreme at Starbucks.
I didn't think mobile wallets had hit the mainstream. But, until I did the above math, I never realized how they still accounted for a very tiny fraction of the payments market that's worth trillions of dollars every year. Their marginal status is reinforced by this article in The Telegraph, according to which fewer than 1% of all transactions happen via mobile phone even in Japan, a country that's widely considered to have a 4-5 year lead on mobile technology over the rest of the world.