Marketers are familiar with cost-plus and value-based as two most frequently used pricing models for products and services.  Under cost-plus pricing, all input costs are totalled up and a markup is applied on top to arrive at the selling price. On the other hand, value-based pricing sets the selling price based on brand, competitor prices, perceived value of pain solved or gain created, and many other factors that are not linked to input costs.
Any given item in the market will have a price that is either based on cost-plus or value-based pricing models. This makes a direct comparison of the two prices impossible. However, most people intuitively know that value-based prices are often much higher than costs. The following price of a full English breakfast in a typical London five star hotel confirms this intuition beyond any doubt.

This example has been taken from Hotel Babylon, a book written by Imogen Edwards-Jones and Anonymous about the luxury hotel industry in London.
At the same time, most people – including us – tend to believe that cost-plus and value-based prices for a given brand will bedirectionally identical. In other words, for two products A and B from the same manufacturer, if it costs more to produce B, we'd be inclined to believe that B should have a higher selling price than A, no matter whether the manufacturer used the cost-plus or value-based pricing model.
We recently came across an example which went counter to this notion.
Panasonic recently launched a new model of desk phone called KX-TSC62SX. Readers would be aware that feature-rich handsets generally need batteries and a charger to charge the batteries, as a result of which they need to be plugged in to the mains at all times. Unlike its older brethren, the KX-TSC62SX doesn't use any batteries.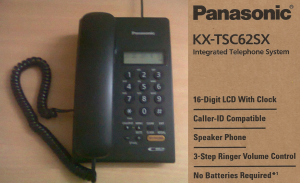 No batteries means no charger, therefore KX-TSC62SX has a lighter bill of material and a lower cost as compared to previous models of Panasonic phones that require batteries. At the same time, lack of batteries means no need to plug a KX-TSC62SX to the mains. As a result, KX-TSC62SX alleviates the pains inherent with conventional phones of having to cart around one more wire and be tethered to a power socket.
Therefore, cost-plus pricing dictates a lower selling price, whereas value-based pricing justifies a higher selling price, for the same product. There's the tug-of-wars between different pricing models.
RELATED POSTS: