Why Inbound Marketing For B2B?
Vendors of B2B high-tech products and services have traditionally used outbound marketing, which uses telephone, email and other methods to "push" out messages to the target market.
Inbound marketing, which creates a 'pull' effect to attract prospective customers and delivers a superior customer experience to convert them to customers, has conventionally been used only by B2C and web companies. But inbound marketing is now being increasingly adopted even by "conventional" B2B high-tech product and services vendors (e.g. SAP) who are seeing their traditional sales funnel morphing into a "new customer journey".

Under the new paradigm, prospective customers are no longer seeking information from vendor sales teams at the early stages of the purchase cycle. Instead, they are turning to analyst reports, B2B marketplaces, realtime web sentiment trackers, and a multitude of other Internet-based resources to research products and services and create their initial longlist of vendors.
By boosting their web presence, inbound marketing helps vendors to find a place in purchase longlists.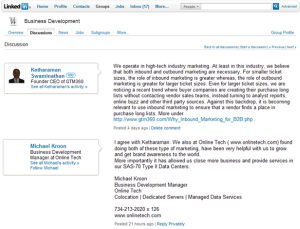 Now, just for clarity, we are not suggesting that outbound marketing should be replaced by inbound marketing. According to anecdotal evidence available for high tech industry, inbound marketing is very cost effective for smaller deals whereas outbound marketing - combined with some amount of inbound marketing - works well in the case of larger ticket sizes.
Click here to know more about our Inbound Marketing Solutions.