GTM360 Marketing Solutions was founded on the belief that commercialization of innovation is the ultimate measure of corporate success. Our mission is to provide all-round go to market solutions to enable high-tech companies multiply the value they derive from their existing ideas, products and capabilities.
During their decades of working for many midsized and large high-tech companies, our founders have used go to market solutions to transform many of their products and services from being laggards into sources of manifold increase in revenues, profits, ticket sizes and market shares.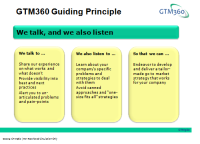 Our guiding principle is "We talk, and we also listen".


According to the old adage, "Don't fix it if it ain't broken". But, what if you don't know that it is broken? We consider it our responsibility is to alert you to un-articulated problems and pain-points. We also have insights into what works and what doesn't and we're eager to share our insights with you. Lastly, we'd like to expose your company to best and next practices in sales and marketing. To do all this, we need to talk.
But, we're also aware of the hazards of adopting a canned approach and spouting "one size fits all" strategies. While we'll leverage our IP-Framework based methodologies in order to achieve repeatability and scalability, we won't force-fit your company's specific circumstances into our frameworks. Before we propose any grandiose plans in isolation, we'll try and learn as much as possible about your company's specific problems and the specific strategies adopted by your executives to resolve them. Finally, we'd like to hear your take on what worked and what didn't. Therefore, we'll also listen.
This unique methodology will help us in our endeavor to develop and deliver a tailor-made go-to-market strategy that works for your company.
Executives




Founder & CEO

As Founder and CEO, S. Ketharaman provides overall direction and leadership toward setting and achievement of GTM360's goals and objectives.




S. Ketharaman has a unique combination of Information Technology products and services experience resulting from his professional career spanning over two decades at leading technology companies like Fujitsu, Oracle, Ramco and Wipro. After starting his career in sales in India, Ketharaman has subsequently held a variety of positions in marketing, delivery and general management positions in the UK, Germany and the Middle East.




S. Ketharaman graduated from IIT Bombay with a Bachelor's degree in Technology. He subsequently earned a Masters in Marketing Management degree from Jamnalal Bajaj Bombay.




More>>>




Sumathi Ramdas

Director & Advisor

After 13 years of being a fulltime homemaker, Sumathi Ramdas re-enters the professional world as director and advisor for GTM360's finance and corporate affairs.




In her earlier professional career spanning seven years, Sumathi served in finance and accounting functions of medium and large manufacturing companies.




Sumathi is a Chartered Accountant.